Marketers are always looking for a competitive edge—something they can seamlessly incorporate into current strategy to outperform the competition. That means identifying a strategy that demonstrably works, moving the needle on customer engagement, live event attendance, return on investment (ROI) and profitability.
What "works", of course, is a function of specific marketing goals and the major challenges you face. For most marketers, those challenges, although they change slightly year on year, have remained relatively stable for at least a decade. According to HubSpot, the top 5 (from most to least challenging) that come up every year are:
Generating new leads and website traffic
Demonstrating marketing ROI
Securing enough budget for campaigns
Finding the best technologies to succeed, and
Managing their websites
The Game Changers
More than 75% of U.S. consumers have purchased a product they saw through an ad on social media—that's a game changer. Almost 60% of marketers say effectively leveraging SEO generates more leads that any other marketing initiative—that's a game changer.
New marketing channels and emerging technologies come and go, but some stick around because they help marketers achieve their top marketing objectives and take their businesses to the next level. Advertising on Google and Facebook belong in that group of marketing approaches that endure because they work. SEO, programmatic media and robust marketing analytics are also on the list.
And it's important for your business to stay ahead of the curve on new approaches to marketing, because if there's one thing that dooms marketing strategy, it's reliance on the status quo—the belief that what worked for you yesterday will work for you tomorrow, and the next day. The reason is simple: whether you change, you can bet some of your competitors will, and if the new approaches they take make their businesses more visible and responsive and appealing to consumers, your business will suffer.
What Is Artificial Intelligence (AI)?
The best art supplies money can buy won't transform you into Degas or Van Gogh. Those supplies are tools. The same could be said about game-changing marketing tools like SEO and paid social—and the same applies to incorporating artificial intelligence (AI) into your digital marketing strategy. Said differently, when it comes to AI, success doesn't derive from doing it, but rather from doing it right.
That said, although one benefit of AI is liberating your marketing team from many of the mundane tasks that currently slow them down, it's not the main one. The main reason to leverage AI is that, as SAS notes, it will help you humanize your marketing:
"AI marketing is the next big thing. It will shift brands away from marketing automation toward personalized experiences (finally!). But there's a great irony here in that artificial intelligence is needed to humanize marketing. Thanks to mobile, social, real-time tech, consumers are always on. With the prevalence of on-demand apps and services and the influence of social media in how people connect, share and communicate, consumers are also becoming more demanding and (accidentally) narcissistic. They want things now. They're increasingly impatient and they want engagement personalized. And they want new and exceptional experiences."

How Effective Is AI?
Businesses that "do" AI right have achieved remarkable results. Consider for example these AI metrics from Venture Harbor:
Incorporating AI into digital marketing strategy boosts productivity by 40%
Almost 35% of consumers spend more money when AI is used
More than half of businesses that adopt AI see rapid return on investment (and for 30%, that ROI is "substantial")
By the end of this year, AI-powered businesses will have captured $1.2 trillion in revenues from businesses that don't use AI
Almost 85% of businesses say that leveraging AI in digital marketing will increase their competitive advantage
How Can Your Business Transform Digital Marketing With AI?
Those numbers reflect average performance, which means of course that some marketers who leverage AI do much better, while others don't do nearly so well. The businesses that succeed best with AI are the ones who humanize their marketing by adopting best practice AI marketing strategies, including the following 3:
1. Personalizing Customer Experience (CX) on Your Website
A host of recent studies demonstrates unequivocally the several benefits of personalizing customer experience (CX) on your website—everything from boosting conversion rates to enhancing brand perception and increasing customer loyalty. AI can be a powerful partner in your site personalization strategy.
For example, by analyzing hundreds of customer data points (including demographics, location and site behavior), you can display content customized to individual customer interests, thereby boosting engagement. You can also use data garnered from customer interactions on your site to send out powerful push notifications, putting the right message in front of customers at precisely the right time.
2. Filling the Need for (More and More) Fresh Content
According to WordStream, creating a steady stream of unique, relevant and effective content is one of the top challenges marketing teams face. Many, of course, turn to outsourcing to solve the problem, but an increasing number are getting content marketing help from AI.
Although at this point the use of AI to assist with content creation is still in its infancy, relegated to producing things like automated emails, personalized reports and content curation on social media, this is one to stick a pin in. The increasing sophistication of AI means it won't be long before machines will be helping you fill your library with high-quality, conversion stoking content.
3. Generating Marketing Insights With More Nuanced Analytics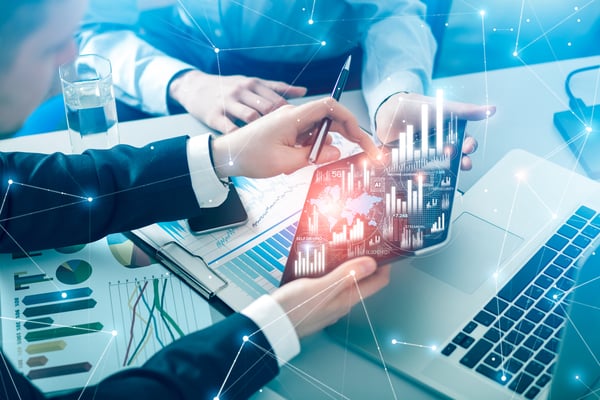 A robust analytics strategy is critical to generating the marketing insights that improve the effectiveness of your ads, enhance website performance and deliver the kind of competitive intelligence you need to sell your products or boost attendance at your live event. The problem for many marketers is one of sheer volume—crunching in other words the massive amount of data needed to produce the most valuable insights.
This is where AI can be immensely helpful, performing the data analysis tasks which would otherwise become marketing boondoggles for your business. AI can be especially helpful in creating more effective buyer personas, segmenting your audience in ways that increase conversions and sales and putting the right upsell products in front of online shoppers when they're most likely to buy them.
Conclusion
Achieving your principal marketing objectives—whether you want to boost conversions on your website or fill seats at your live event—isn't easy. That's why you continually look to the transformational traditional and digital marketing strategies that are potential game changers for your business.
As the metrics above demonstrate, artificial intelligence is arguably one of those game changers—but effectively incorporating AI into your digital strategy can be difficult. That's where Flying A Media can give you the guidance and advice you need to succeed.
To learn more about the ways our marketing strategy, analytics, programmatic and traditional media and paid social services can be game changers for your business, contact us today.