Launching a community-focused employee advocacy program is one of the most rewarding accomplishments you can hope to undertake. With the right planning and input from your organization, you can create a program that will boost your brand image, help you retain employees, and stimulate new sales. However, if you have never designed an advocacy program, you may wonder where to start. Below are five simple ways to create an outstanding community-focused employee advocacy program.
Why Develop an Employee Advocacy Program?
Before diving into the various ways to create a program, it is helpful to understand how a community-focused employee advocacy program can benefit your business. Here are five key reasons why you should make an advocacy program a top priority at your company:
Increase your brand visibility: With employees promoting your brand at community events, your brand will become better known.
Keep employees engaged: Working toward a shared program goal boosts engagement, which promotes employee loyalty and retention.
Generate new leads: With employees wearing clothing with your logo and talking up your products, you will generate new leads.
Show the human side of your brand: Employees can infuse life into your brand and enable people to put a face with your logo.
Boost your social media status: Content shared by employees receives 8 times more social media engagement than brand-based content.
How Can You Design a Winning Employee Advocacy Program?
Successful advocacy programs do not magically unfold on their own. They are the result of planning, careful selection of activities, and supportive leadership. Here are five ways to develop a stellar employee advocacy program.
1) Involve Employees in Program Design
The path to a successful program begins with input from your employees. Inviting employees to have a voice in the program design process will motivate them to remain invested in the program and perform their best work. More importantly, your employees will feel valued if their input is sought. Here are a ways to involve your employees in the program design process:
Create a program steering committee that includes a nominated employee from each department
Invite employees to suggest community organizations or charities to support through your program
Schedule a company-wide kickoff event that families and friends are invited to join
Involve your employees in selecting a program t-shirt that showcases your mission
2) Consider Counting Volunteer Hours Toward Working Hours
"Volunteerism has been linked to larger corporate initiatives to improve brand image as part of corporate social responsibility efforts. By offering paid volunteer hours or otherwise encouraging employee-led projects in local communities, employers may be able to create team-building opportunities and improve engagement." - Ryan Golden, Associate Editor, HR Dive
Giving back to the community as a company is a wonderful way to encourage social responsibility. On that same note, some employees have extremely demanding schedules and cannot always afford to devote time to a community-focused advocacy program. Companies that truly view community as a core value address this issue through their willingness to count volunteer hours toward working hours.
3) Adopt Work Practices That Are Consistent With Your Program Goals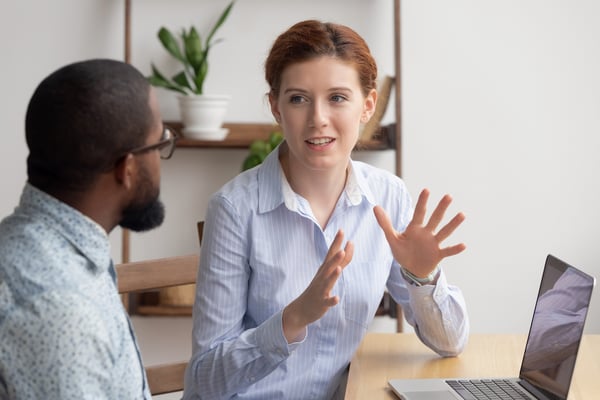 Ideally, you and your employees will keep their community-focused mindset when they are working for your organization. For example, if preserving reducing your community's carbon footprint is your program goal, you should take measures to minimize your use of printers and copiers during the day. Another way to practice your mission at work is to move to a paperless invoicing system. You can also schedule periodic energy audits to identify ways you and your employees can become more energy efficient.
4) Share Your Program Results on Social Media
A great way to showcase your advocacy program is to share updates and results on Twitter, LinkedIn, Facebook, and Instagram. By posting updates on a weekly basis, you will keep friends, family members, and clients interested in your progress. Here are some tips to make sure that you get the most mileage out of your social media updates:
To ensure a consistent message, delegate one or two people to post content and maintain a social media calendar of program events.
Make your posts compelling by featuring photos and videos of your employees hard at work in their volunteer attire.
Be sure to respond to questions, comments, and accolades from people who post messages applauding you for your efforts.
5) Link Program Results With Company Goals
"The majority of businesses want to bring in more revenue, reduce costs, and build stronger relationships with customers/clients. This is what matters to your executive team and without clearly identifying some numbers and results a program can bring, they may tune you out." - Todd Kunsman, Head of Marketing, Everyone Social
If your program is a hit with employees and the community, you will succeed in elevating your brand, generating more leads, and increasing visits to your website. However, it is important to take the time to track your program results and measure the financial impact your employee advocacy program has on your business.
Quantifying the results of your program and linking them to your business goals is not always easy. However, this step is sometimes essential if you want to continue to earn the resounding support of leadership and stakeholders. Below are some suggestions to help you earn long-term support for your program:
Calculate the number of leads from new customers generated in response to your social media posts about your program.
Track the number of sales closed from new customers who found you through your program.
Compare the savings your company will enjoy by advertising through your employee advocacy program instead of some of your paid ads.
The Key to Designing a Winning Employee Advocacy Program
Creating a community-focused employee advocacy program is no small feat. The five steps above will help you develop an advocacy program that engages employees while giving back to your community. For more tips on designing a stellar employee advocacy program, we invite you to contact us at Flying A Media Today. During your 30-minute complimentary video call, we will discuss your program goals and discuss ways to design a program that is community focused and consistent with your goals. We look forward to helping you establish a winning employee advocacy program!